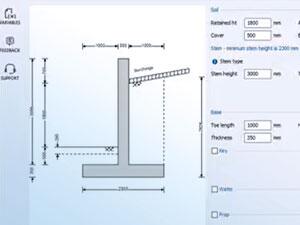 Retaining Wall Analysis and Design
This retaining wall calculation reliably checks the analysis and/or design of cast-in-place reinforced concrete or masonry retaining walls. The wall stem may be either cantilevered or propped and may feature either stepped or inclined faces. The retaining wall base may also be propped.
Watch the video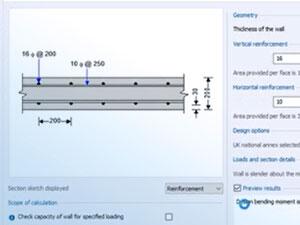 Cast-in-Place Reinforced Concrete Wall Design
This reinforced concrete wall calculation quickly checks the design of braced and unbraced, slender and non-slender walls. You can use the calculation to check the capacity of the specified wall against the specified axial load (including tension) and minor axis end moments, to produce the interaction diagram about the minor axis for the specified wall and to determine the design bending moments for the specified wall, axial load and end moments.
Watch the video at TUA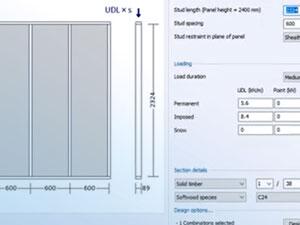 Wood Shear Wall Design
The shear wall design calculation determines the capacity of wood structural panel and lumber sheathed shear walls acting as elements of a lateral force resisting system. It allows both allowable stress design (ASD) and load resistance factor design (LRFD) using either the segmented or perforated shear wall design methods.
Watch the video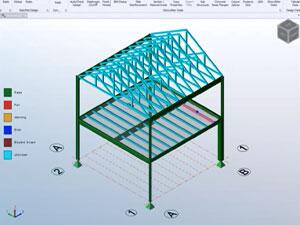 Wood Member Design (NDS)
When you link Tedds to Tekla Structural Designer, you can design wood members according to the National Design Specification for wood construction.
Watch the video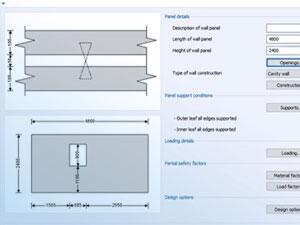 Masonry Wall Panel Design
This wall panel calculation quickly checks the design of masonry wall panels and sub panels of single-leaf or cavity wall construction, either with or without bed joint reinforcement and with or without masonry piers, subjected to horizontal and/or vertical loading.
Watch the video
Free trial
Avoid the time-consuming hand calculations and spreadsheets by letting Tekla Tedds do the heavy lifting for you